WHEN : Saturday July 9th | WHERE : Carnelian Bay | The Waterman's Landing will host the 6-mile 'Waterman's Paddle Jam' the second of a three-event Tahoe Cup Paddle Racing Series. |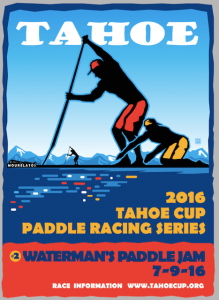 The race is open to all paddling craft and  participants of all ability levels.  The race will start at 9am at Waterman's Landing. Hundreds of participants including world-renowned athletes and local paddlers will line up on the beach.
Spectators are welcome. The finish area, always a festive atmosphere, will include free demos following the race.
On-line registration is $65.  Race day registration starts at 7:30am and is $80* (cash / check only.)
For registration and more information, visit Eventbrite here.
In addition, following the race, Waterman's Landing will host the 6th Annual Keike Challenge, a free-to-participate standup and prone paddlboard race for boys and girls 1-7 and 8-11. Participants must provide their own gear, including an approved PFD (Personal Floatation Device) also they need to have a completed liability release signed by a parent or guardian.